Vintner's Club
---
Join our Winemaker Scott Gares' inner circle. Based on your personal preferences, Scott will handpick six bottles of wine for you to enjoy twice a year. These selections include the best of our current wines, unreleased vintages, and small-batch wines that Scott creates especially for club members. You choose whether you want the wine shipped to your door or to visit the winery during one of our exclusive pickup events. In addition to your six-bottle selections, you will also receive free wine tastings, discounts on wine and event tickets, and other member benefits.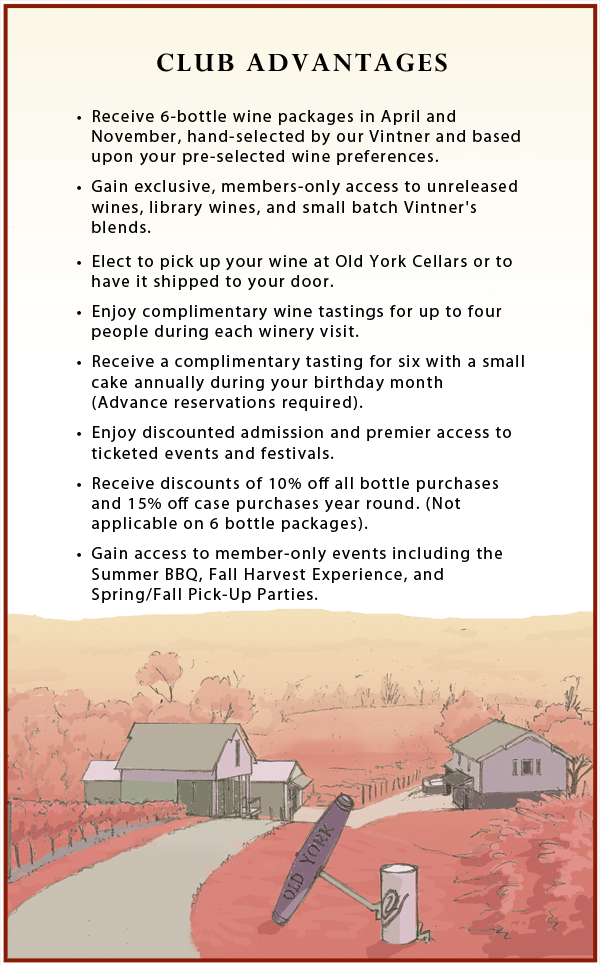 Old York Cellars is licensed to sell and ship wine only to customers located in the following states:
Alaska
Florida
Minnesota
New Jersey
New York
Pennsylvania
Washington DC
Prohibited Counties
Alaska - contact Vintner's Club Director
Florida - Lafayette, Liberty, Washington
Registration Fee
This one-time $50 fee is paid upon entry into the Vintner's Club (waived for current Case Club Members through Sept. 30th).
Wine Selections
Member's are charged the retail cost of their wine (6 bottles, twice a year). Payments are processed up to two weeks prior to the shipment/pick-up dates (Spring and Fall). Member discounts do not apply to these 6 bottle selections.
Shipping & Handling
Member's who opt to have their wine shipped are charged the cost of shipping plus a $5 handling fee for each shipment. The approximate total cost for each shipment to NJ or NY is $20.
Must be 21 years of age or older to join, and someone 21 years or older must sign for each shipment upon delivery.
Old York Cellars will charge new members a one-time $50 fee upon registration.
Old York Cellars will automatically charge member's credit card for the cost of wine (plus shipping if applicable) up to two weeks prior to each shipment/pick-up event (Spring & Fall).
Member discounts do not apply to the 6 bottle wine selections.
Member is responsible for any costs incurred if shipment is not deliverable or is returned for any reason.
If member's wine is not picked up by the end of designated time period, it will be shipped at member's expense.
Members must be in good standing to retain their membership.
Members may cancel their membership at no charge by doing so in writing only after receiving their first two wine selections.
Member's will be charged a $150 early cancelation fee if they choose to cancel their memberhip prior to receiving their first two wine selections.
All wine purchases are non-refundable once the payment has been processed.
The wines in the six bottle selections cannot be returned or exchanged for other wines.
All prices are subject to change.
Wines may be repeated, and member's may receive special wines outside of chosen preferences.
To join, please complete and sign a Vinter's Club Membership Form then email it to our Vintner's Club Director, Chris Principato, at chrisp@oldyorkcellars.com. Forms can also be mailed or hand-delivered to the winery during business hours (12 - 5pm).
Click here to View and Print Membership Form
Eero Dominich
Vintner's Club Director
eero@oldyorkcellars.com
908.284.9463
Eero Dominick
Vintner's Club Director
eero@oldyorkcellars.com
908.284.9463